In Memory
Dick Wiedenbeck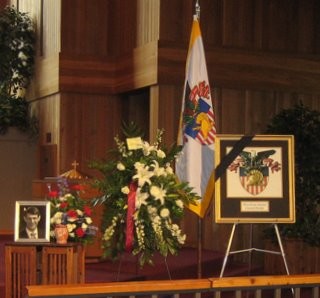 Shown above: The LHS Class of '64 Floral Spray sent to
Dick Wiedenbeck's Memorial Service from our class.
The Memorial Service was held at St. Luke's United Methodist
Church in Orlando, September 19, 2009. Remembrances can be
sent to his wife, Betsy at 12302 Park Ave, Windermere, FL 34786.
Richard Wiedenbeck
Deaths
'Mickey pole' stands as his monument
September 8, 2009|By Fernando Quintero, Sentinel Staff Writer
On his many friends and family, Richard Wiedenbeck left a lasting impression with his intelligence, humor and strength of character.
For everyone else, there's the Mickey pole.
The Windermere resident and former vice president of utility services for Walt Disney World was responsible for telecommunications, electrical and other utilities serving the resort property. One of his favorite projects was the construction of the high-wire electrical pole with two circular Mickey Mouse ears attached at Interstate 4 and World Drive.

Inline Image Not Displayed

Inline Image Not Displayed
"I think the Mickey pole in some ways characterized Dick, because it was something that showed his technical skills but also his humor," said his wife, Betsy Wiedenbeck.
Richard Wiedenbeck died Sunday of pancreatic cancer. He was 63.
Wiedenbeck loved all things electrical and mechanical, said his sister, Nancy Connors of Windermere. While growing up, his bedroom was a maze of wires as he pursued his interest in ham radio operations.
Born July 6, 1946, in Orlando, Wiedenbeck grew up in Winter Garden and attended Evans High School. Later, when he enrolled at the U.S. Military Academy at West Point, his classmates took notice of how he was able to solve complex electrical problems in his head, Connors said.
After serving his tour of duty in the Army, earning several medals for his service in Vietnam, he completed his master's of business administration at Dartmouth College and joined Walt Disney Co. in 1976.
"He was a remarkable person, not only as a leader in the military, but also in the corporate environment," said Connors.
In 1979, Wiedenbeck was promoted to general manager at Disney's transportation subsidiary, managing and developing transportation modes for use in the company's theme parks as well as other commercial applications. In 1983, he was promoted staff assistant to longtime chief of Walt Disney Attractions, Dick Nunis. Two years later, he became director of facilities management. In 1987, Wiedenbeck was promoted to vice president of design and engineering before assuming his VP of utility services role at Disney in 1992.
Wiedenbeck retired from Disney in 2000 after learning he had a rare form of pancreatic cancer. He was given only months to live, but he refused to accept the prognosis and sought out doctors in California who were exploring new medical advances.
"He never took no for an answer," his wife said. "He was with us for another 10 years -- I believe for a purpose. He provided countless hours of encouragement and support for others who were diagnosed with pancreatic cancer." Wiedenbeck spent the last years of his life with his three daughters, taking on consulting jobs and pursing his love of golf.