Lakeview

High School




Class Of 1964
x
Ann Wincey received this message from a friend of a friend who grew up in Orlando-- we thought you would enjoy this reflection on the horrible events in Orlando a few weeks ago.
Subj: Fw: Fwd: Growing Up in Orlando
This was written by a dear friend from our church in North Carolina who grew up in College Park. She has given permission to share her thoughts which are so well expressed regarding the tradgy in Orlando.
Some of you may not know that I was born and raised in Orlando. In fact, our family has lived in the same neighborhood for three generations, and all of my immediate family still lives in that same neighborhood.
I don't tell you this to claim a connection to the recent tragedy in Orlando, or to elicit sympathy as if I personally suffered a loss in the mass shootings that took place Sunday morning.
I haven't lived in Orlando for about 30 years, having moved to another Florida city for my career............but there is something about the town where you grew up........where you rode bikes to school and to the playground, where you swam in the lake (no one had pools then!) and went fishing.......where you played outside until the street lights came on........and went to church on Sunday, and choir practice on Wednesday........and Girls Scouts, and day trips to the beach..........and lived a childhood relatively sheltered in the innocence of small town America.
I was a senior in high school when Disney World opened its' doors (yes, I am that old!). When my parents were born and raised in Orlando, there was only one high school, and the main street (Orange Ave.) was a dirt road...........ironically, that same road that is now a major thoroughfare and is the street on which the Pulse night club is located. We watched Orlando grow from a small town to a major city, but it still had the feel of a small town in the old familiar neighborhoods.
I was born in the hospital that served as the main treatment center for all the shooting victims (it was called Orange Memorial Hospital back then) so seeing all those images on the news was like seeing a bit of your own personal history flashed across the screen.
When the news reports started filling the airwaves, and I saw that tragedy had come to the place where I grew up, I felt both sadness and anger that some nut would choose my hometown to bring evil, and death, and terror. He had no connection to Orlando; he drove 2 ½ hours to inflict such suffering. I did not know anyone personally who was killed, but that kind of horror and evil strikes at ALL of us........and steals just a little bit more of our sense of innocence, of the safety of community, of the sense that we are somehow protected from the evil that is rampant in the world.
In the aftermath, and in the hours that followed, I felt great pride in watching "The City Beautiful" care for its' own: the unbelievably long lines to donate blood (do you know how HOT it is to stand in the sun in Florida in June?).........and the local Chick-Fil-A employees who came in on Sunday when the store was closed to make FREE sandwiches and drinks for the hundreds of people standing in line.
I saw churches packing bags of drinks, snacks, wet wipes, etc. for all the police and emergency personnel who were still processing the crime scene...........giving a small dose of comfort to those on the front lines.
The medical side of me was amazed that Orange Regional Medical Center was able to handle almost 100 trauma patients in a matter of hours..........and you can bet that they not only had an awesome mass casualty plan in place, but had thoroughly practiced and prepared for events just like this. That preparation and planning saved lives.
You don't have to be an Orlandoan to feel great sadness and loss at what has happened.........as evidenced by the outpouring of support from all over this country and the world. Every time something like this happens, ALL of us lose a little bit of innocence, of the sense of safety, and of faith in our government to protect us from harm. You may even question your faith, and the belief that goodness will prevail against evil.
That is what I found myself thinking these past few days...........a range of emotions and feelings...........but mostly holding fast to the assurance that God is in control, that evil does not triumph in the end, and that one day I have the promise that suffering and sorrow will be no more.
There is no question that trusting in those promises is hard at times, when places (or people) close to you are victims of evil.........but maybe it was growing up in a "small town neighborhood" surrounded by a great community of friends and anchored by a church full of loving saints.........that foundation gives you a solid footing to stand on when the storms come. I am grateful for growing up in Orlando, and my heart goes out to those living there now who are suffering and hurting.
On Saturday, May 14 our class hosted a luncheon at WG Pizza Company at noon for our favorite teachers Barbara Robison, Carroll Barrett, Diane Shepard and Rod Reeves who were in town for the Class of 66 Reunion. Look how great our former teachers are looking these days-- all because we were so NICE to them!

Barbara Robison, Jerry Smith, Carol Warden Droessler, Patti Moore Sims, Jeanne Lease Hays, Ron Cothern, Diane Shepard, Fulton Robinette, Frances Gleason Grubbs, Bob Grubbs, "Mr. Winter Garden", Rod Reeves, Elaine Lechowicz Moorman, Dave Shuman, Sue Payne Shuman (Cindy Bunde Claghorn had to leave us early before this photo was taken.
Photos from our After Christmas Class Party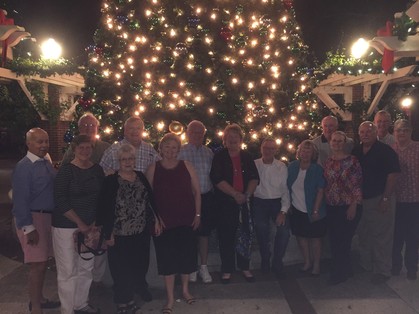 LtoR- Wayne, Jane, Steve, Diane, Jerry, Ann, Dave, Sue, Roy, Diane, Frances, Bob,
Larry, Phil and Ann. We had a great time out-talking everyone in Urban Flats-- and then
enjoying the beautiful lights in downtown WG!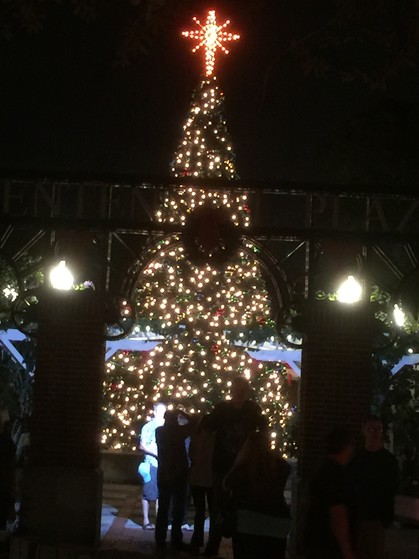 Congratulations to our friends in the
Class of '65 on their recent 50th Class Reunion--
big party on Friday night at Urban Flats-- April 17-- a few of us
from the Class of '64 helped them celebrate!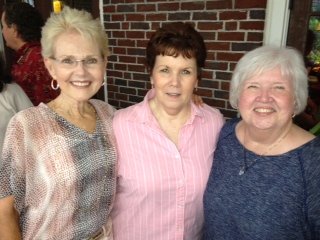 It wouldnt be a party without all the Quigley girls-- Gayle, Kay and Barbara-- friendly and sweet as ever!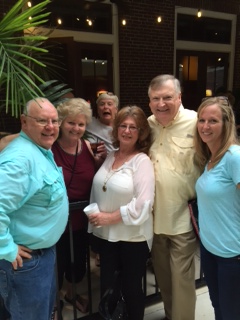 Everyone's favorite teacher-- Rod Reeves, Ann-- Lavina photo-bombing us-- Julie, Jerry and Julie's gorgeous daughter visiting from Texas.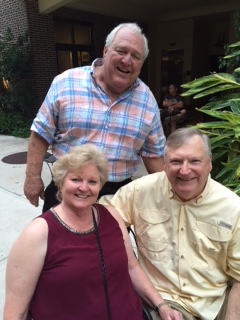 Ann, Gerald Jowers and Jerry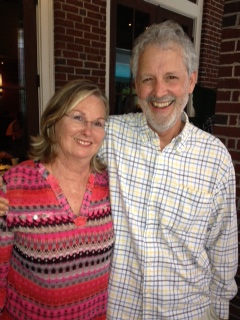 Frances with Doc Clarke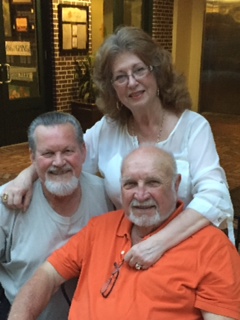 Jimmy and Julie with Coach Vel Heckman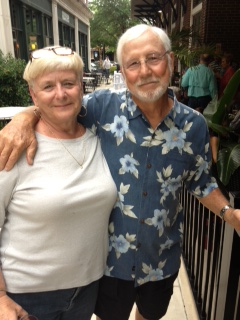 Lavina and Bob Williams-- the hostest with the mostest!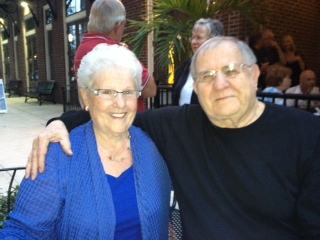 June and Coach Joe Clenny-- havent changed one bit!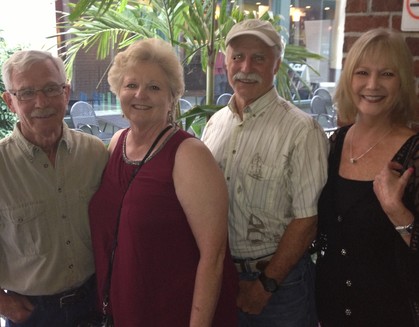 Jerry Daughtry, Ann Wincey, Fred Ellliott, and Brenda Beckett McClung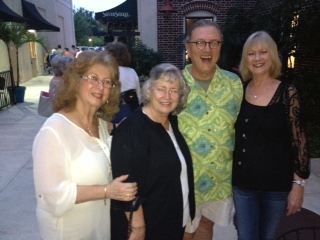 Julie, Diane and Roy Vinson and Brenda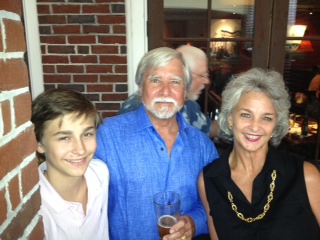 Bill and Shelia Gaylor and their handsome (and polite) son.
Our 50th Reunion....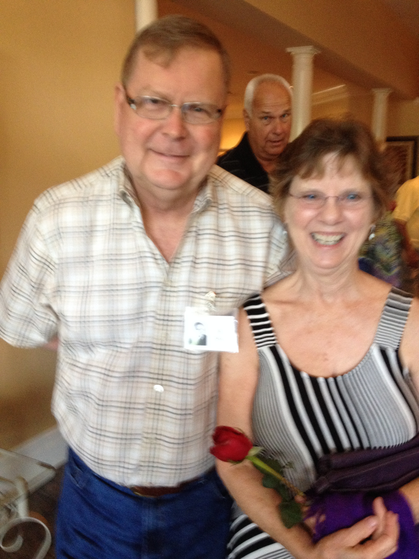 Bill Bean and Edwina (Reynolds) Dobson being "photo bombed" by Bill Woodley at our 50th Reunion... and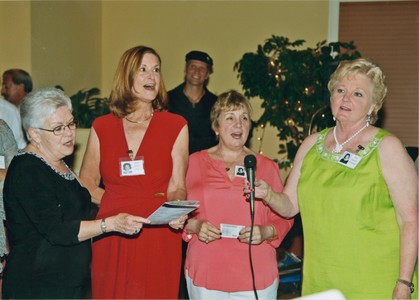 Diane, Susan, Cheryl and Ann leading us in the LHS Alma Mater-- sounded pretty good, right?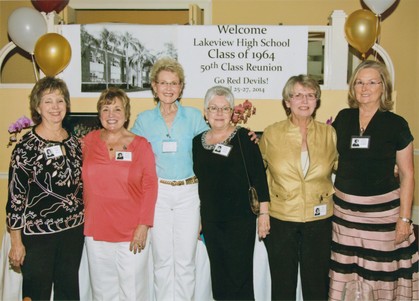 Varsity Red Devil Cheerleaders: Susan, Cheryl, Gayle, Diane, Elaine and Frances
AND our Favorite Majorettes: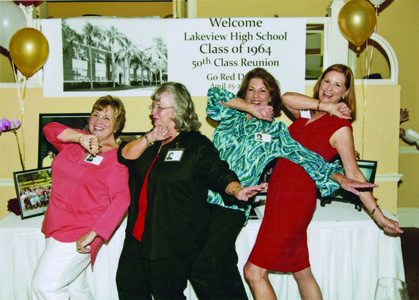 Cheryl, Diane, Taffy and Susan
AND everyone attending who worked in education: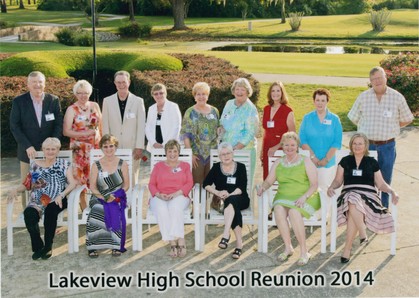 Patty, Edwina, Cheryl, Diane, Ann, Frances, Jerry, Mary Sue and Les Thompson, Jane, Cindy, Sue, Susan, Kay and Bill
HEY-- Check Out The NEW PHOTO GALLERY
on the left side of this page. Click on the link that says "Our 50th Reunion to see many of the photos already posted. If you have others that you want to share, email them to JPSMITH3170@aol.com and we will post them for you-- OR you can always post them in your personal profile.
This link is easy to use, once you click on OUR 50th Reunion, it will lead you to several photo albums with more coming as we receive more photos. Click on the first photo in the album and an automatic slide show will start with each photo lasting about 5 seconds. If you want to scroll faster, place your cursor on the ride center side of the photo and a little arrow will appear and you can click on that to speed up each photo. Hope you enjoy these-- most were taken by Jimmy Bean, a few more by Cindy Bunde Claghorn-- and I am waiting to get more from the rest of you!! Happy Browsing!!
And here is our group photo-- we havent changed one bit!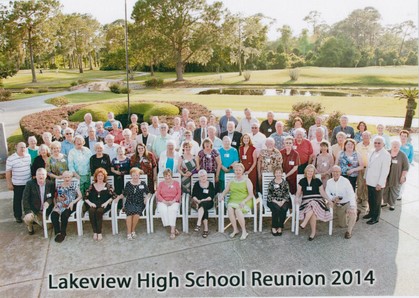 LtoR: Jerry and Patty Smith, Julie Brantley Bean, Peggy Daughtry Renfroe, Cheryl Graddy Ellerbe, Diane Barton Estes, Ann Deariso Wincey, Susan Neff Frey, Frances Gleason Grubbs, and Wayne Wincey
Row 2: John Gilbert Gillard, Diane King Vinson, Cindy Bunde Claghorn, Sue Payne Shuman, Pat Burkett Woodley, Judy Strickler Garris, Diana Eby Dawson, Donna Peavy Chancey, Edwina Reynolds Dobson, Myra Brown Senters, Dorothy Rosser Mock, Susan Macchi Teel, Ron and Casey Reams, Chae Grimes, Linda and Ric Bennett.
Row 3: Sharon and Ron Cothern, Dave Shuman, Mike Renfroe, Bill Garris, Mary Sue and Les Thompson, David Dawson, Jane Meriam Sanford, John Senters, Ron Dixon, Larry Cappleman, John Duggan, Elaine Lechowicz and Gene Moorman, and Barbara Jean Quigley Becker.
Last 2 rows: Byron Claghorn, Bob Williams, Gerald and Sandy Jowers, Jimmy Bean, Lavina Mazy Williams, Roy Vinson, Joanna and Gary Hewett, Sue Starr and George Hoke, Claudia Monson Maricle, Steve Sanford, Debbie Cappleman, Bob Grubbs, Bill Bean, Bill Woodley, Joe and Cindy Miller, Wayne and Taffy Schreckengost Ward, Gayle Quigley Cone, and Kay Quigley. Charlie and Judy Arrington, Bill and Christine Hill and Bobby and Linda Kinzey were also there but missed our group photo.
"Dear Ole LHS"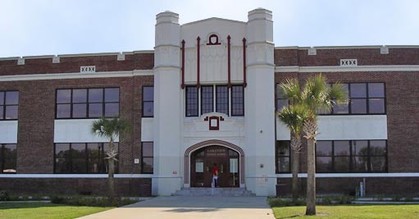 Our Alma Mater
On yon city's western border,
Sheltered by the azure sky
Proudly stands our Alma Mater
As the years go by,
Ever forward be our watchword
Service to thee e're prevail
Hail to thee, our Alma Mater
Lakeview High, all hail!
It's 50th Reunion Time!!
And what a great time was had by all--- this past weekend, April 25-27,2014 in Winter Garden---check back later this week when we will post many more photos from our three day event...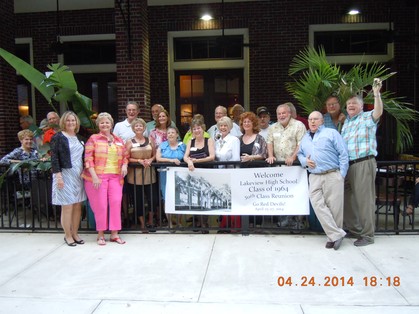 Friday Night Lights-- at Urban Flats... downtown Winter Garden, April 25, 2014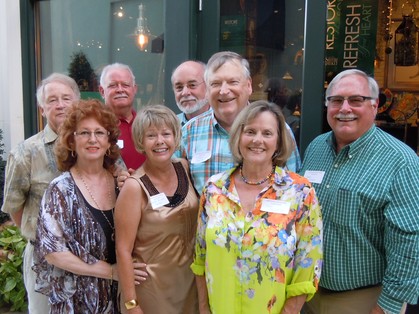 Great time seeing old friends and telling old stories... Julie, Becky and Judy- Back Row - Ronnie, John, Charlie, Jerry and Larry-- looks like an "Oakland Gang and Friends" gang to me! CHeck out ALL the Photos by clicking on OUR 50th REUNION TAB on the left side of this page.
.